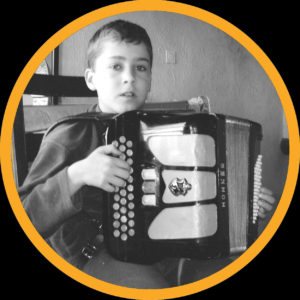 Bastien Pouillès (*1994) is a French classical and contemporary accordionist, composer, improviser and multidisciplinary artist. He is particularly active in contemporary and new music, 20th and 21st century repertoire, improvisation and multidisciplinary projects (dance, theatre). Besides his performing skills, he is always looking for new sound and performance possibilities, especially through electronics and new technologies. Lately, his work and projects are focused around ambiguity as a musical aesthetic and performance-installations. His international experience allows him to collaborate with many composers and ensembles (CoPeCo, Ensemble for New Music Tallinn, LUX:NM, SPIIC). He also takes part in festivals such as Bien entendu! (Bordeaux), Sound Plasma, müriaadFEST (Tallinn), akademie kontemporär, SUBITO!, blurred edge (Hamburg), Festival des Solutions écologiques (Sampigny-lès-Maranges), among others.
---
In 2020 he founded the duo Silhouettes Contemporaines with Benoît Segui (multiguitarist), which explores the connections between Renaissance and contemporary music through a diverse range of instruments with the accordion, from the classical guitar to the hurdy-gurdy or theorbo. They play in concert and undertake many mediation projects. In October 2022 they released their first album Traversée I on the Elektramusic label, which includes his composition Pavana Electricae (for accordion and electric guitar). He works closely with the composer Michael Winter around the exploration of accordion timbres and musical ambiguity. The result is the piece Dawning (for accordion, electronics and installation) premiered in Hamburg in July 2022, and also performed in Berlin in October. In August 2022, he was the musical director of SoundSteps, a project that brought forty young dancers and musicians from six countries to Hamburg to create a performance together. In 2023 he will be part of the ensemble XAMP, founded by the accordionists Fanny Vicens and Jean-Étienne Sotty.
---
Bastien holds a master's degree in contemporary performance and composition (CoPeCo) from the CNSMD of Lyon, an international programme that allowed him to study in Tallinn (Estonia), Stockholm (Sweden) and Hamburg (Germany). Before that, he obtained bachelor's degrees in performance and pedagogy at the PESMD in Bordeaux, including an Erasmus exchange at the Hochschule in Munich (Germany). He also holds a master's degree in research and musicology from the Aix-en-Provence University. Bastien is currently based in Paris.
Updated – November 2022