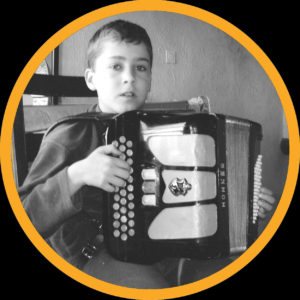 Bastien Pouillès (b.1994) is a french classical and contemporary accordionist who is currently studying in Master CoPeCo at CNSMD of Lyon, an itinerant European Master in performance and composition that allowed him to study in Tallinn, Stockholm, and Hamburg (upcoming, 2022). Previously, he completed his Bachelor's degree in performance and pedagogy at the PESMD Bordeaux Aquitaine, passing through the University of Music and Performing Arts Munich. He also obtained a Master's degree in musicological research at Aix-Marseille University.
During his education, Bastien became fascinated by the repertoire of the 20th and 21st centuries, with which the accordion is especially connected. The Master CoPeCo allows him to travel across Europe, meeting and working with composers, playing with ensembles (Ensemble for New Music Tallinn, CoPeCo) as well as in festivals (''Bien entendu!'' op. 19.1 in Bordeaux, Sound Plasma 2020 and müriaadFEST 2020 in Tallinn). Furthermore, Bastien is mainly interested in exploring new sounds possibilities and experiences, especially with electronics and new technologies. He is also performing a lot in free improvisation and multidisciplinary projects (dance, theater), as well as composing.
Recently, you could hear him in a solo accordion & electronics concert in Royal College of Music of Stockholm, where he premiered three pieces (by Andreas Nilsson, Fiona Xue Ju and Carmen Kleykens Vidal). He also composed and recorded "You needed new shoes", a piece for bass clarinet (Elena Perales Andreu), accordion & electronics (Francis St-Germain), created an original duo called Silhouettes Contemporaines with guitars (Benoît Segui), and started a long-term collaboration with the composer Michael Winter (upcoming project in 2022). From August 29 to September 5, he will take part to the "akademie kontemporär 2021" in Hamburg, where he is going to work with composers, members of the ensemble LUX:NM and premiere pieces.